Discover more from Loic's letter - Exploring the Mysterious
Mystical stories and learnings of a tech entrepreneur who decided to heal and transform himself working with indigenous spiritual masters. Frequency: 2 posts a week. 100% of the revenue goes to guardians of Mother Earth.
Over 12,000 subscribers
A few weeks ago I was invited to be "man support" at Bacalar's Moondance in Mexico, led by Abuela Ursula Ketzalocelotl. I had no idea what it was.
For thousands of years "Abuelas" (grandmothers) have been gathering groups of women going through a 9 year Aztec initiation that involves fasting and dancing to the full Moon once a year. It was always kept secret and was stopped about 400 years ago. This group of Abuelas restarted the Aztec feminine spiritual dance and drums 40 years ago. It is slowly being shared, this is why I was allowed to write about it. It was very spiritual and gave me an opportunity to discover and ancestral Aztec tradition.
This upcoming Wednesday (tomorrow!) PAWA's zoom call at 10AM PT (SF), 1PM ET (NY) and 19H CET (Paris) Zoom link - https://zoom.us/j/96086041175
PAWA will host Abuela Ursula Ketzalocelotl, with Magdalena Sartori one of her Moondancers, and ask her to tell us why this ancestral tradition exists and why these women go through such a training that they must go to every year for 9 years in a row, after which they can open their own circle and receive the title of Abuela (Grandmother).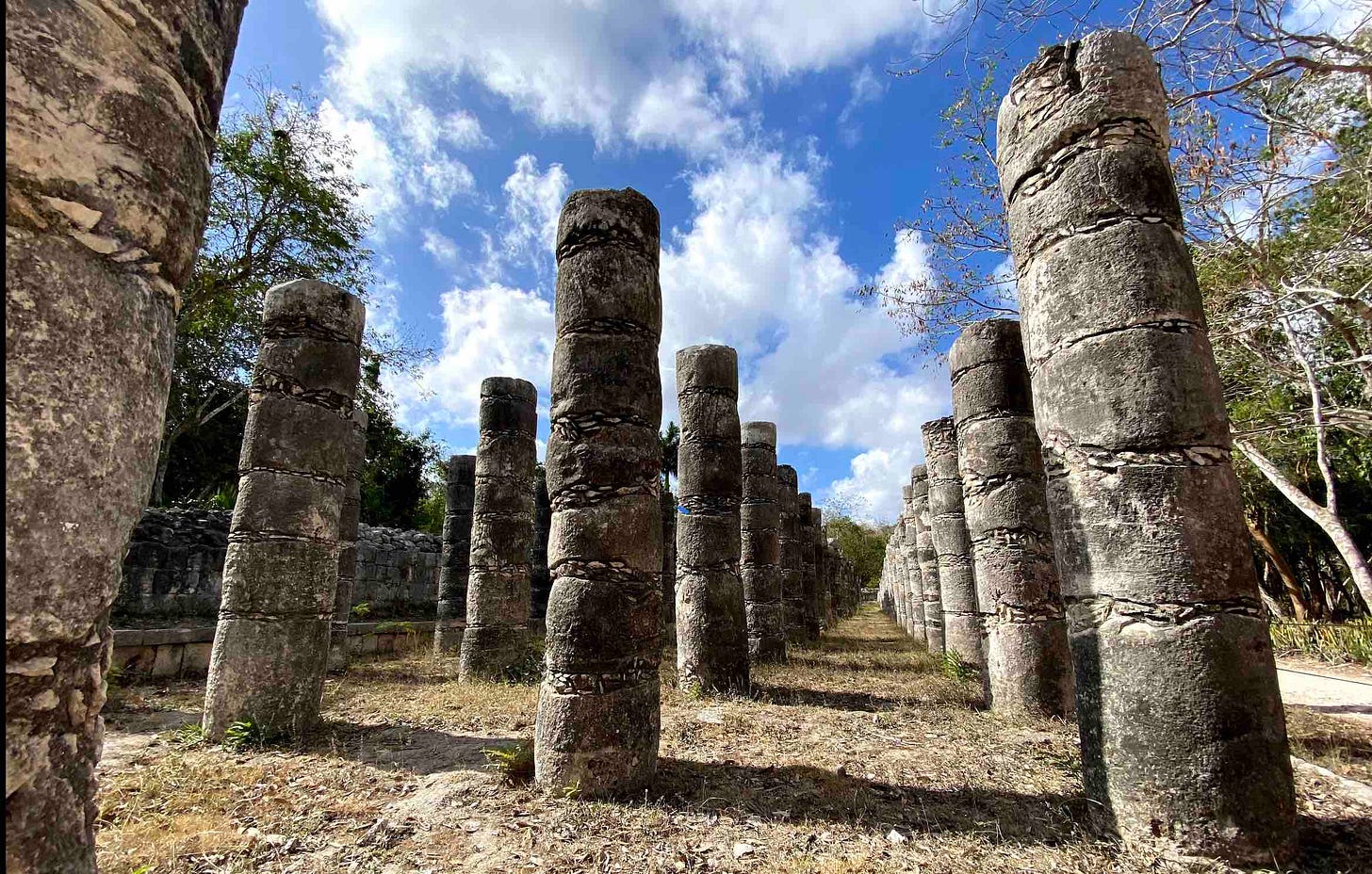 We also visited the Chichen Itza pyramid, one of the 7 wonders of the world. 
After a couple of hours drive from Tulum in Mexico we arrived in the mayan jungle by a beautiful lake. The women checked-in and their phones were immediately safely stored in a locked box. They won't see their phones until the Moondance is over, 4 days later. The 130 or so women participating will not be able to communicate with anyone outside of the group, eat anything except some honey carefully distributed during the ceremony and will barely sleep for four entire days and nights, dancing all night. No drinks outside were allowed, except some pure tobacco they use as a prayer in their pipes at certain specific moments of the night. They slept a few hours in the morning in tents by the lake without being able to touch the pristine drinkable water or swim in it. 
"Purification" as they call it happens in the "sweat lodge" or "purification lodge", a big round tent where men bring very hot stones heated in the sacred fire that will keep running for four entire days. It is also known as "Temezcal". The heat inside is so high it would make most sauna or steam bath feel freezing. It gets so warm you can barely stay in it but you still do. Women have two Temezcal a day at sunset and sunrise, in which receive teachings from the grandmothers as well as sacred songs. Beautiful drums made in leather are used to create very loud and high pace beats.
The women dance all night and get a few breaks to light their pipes and smoke some ceremonial tobacco to pray. They do not inhale the tobacco it stays in the mouth and it is used only for prayers. Women can share their pipes with the men during these breaks which was a welcome "medicine" and relief in the middle of very long work days and nights. Women also burn tree resin (copal) in a smoker to purify the women getting in and out of the circle. 
I can say that I was very proud to see these women literally act as spiritual warriors of the night depriving themselves from sleep, food, washing themselves and dancing to exhaustion. Why do they do this? What are the benefits? I can't say as I haven't done it but Ursula and Magdalena would share that this is a prayer for Mother Earth. They will share more in the zoom call. 
During the day while women were either sleeping or gathering by the lake in circles to receive teachings from the many "grand-mothers" present to share their teachings.
Some men in the group were maintaining the fire for the Temezcal or preparing the stones as there are two compulsory sweat lodges per day for the women, and when they are done the men could do their Temezcal too. I loved it.  
Even though I was not allowed in the circle we felt privileged to be part of the ceremony by helping make it happen safely as one of my tasks was maintaining security. I did not feel like I was witnessing it, I felt like I was in it. It was hard work and I went through many emotional states while collecting, cutting wood or keeping the space clear of visitors.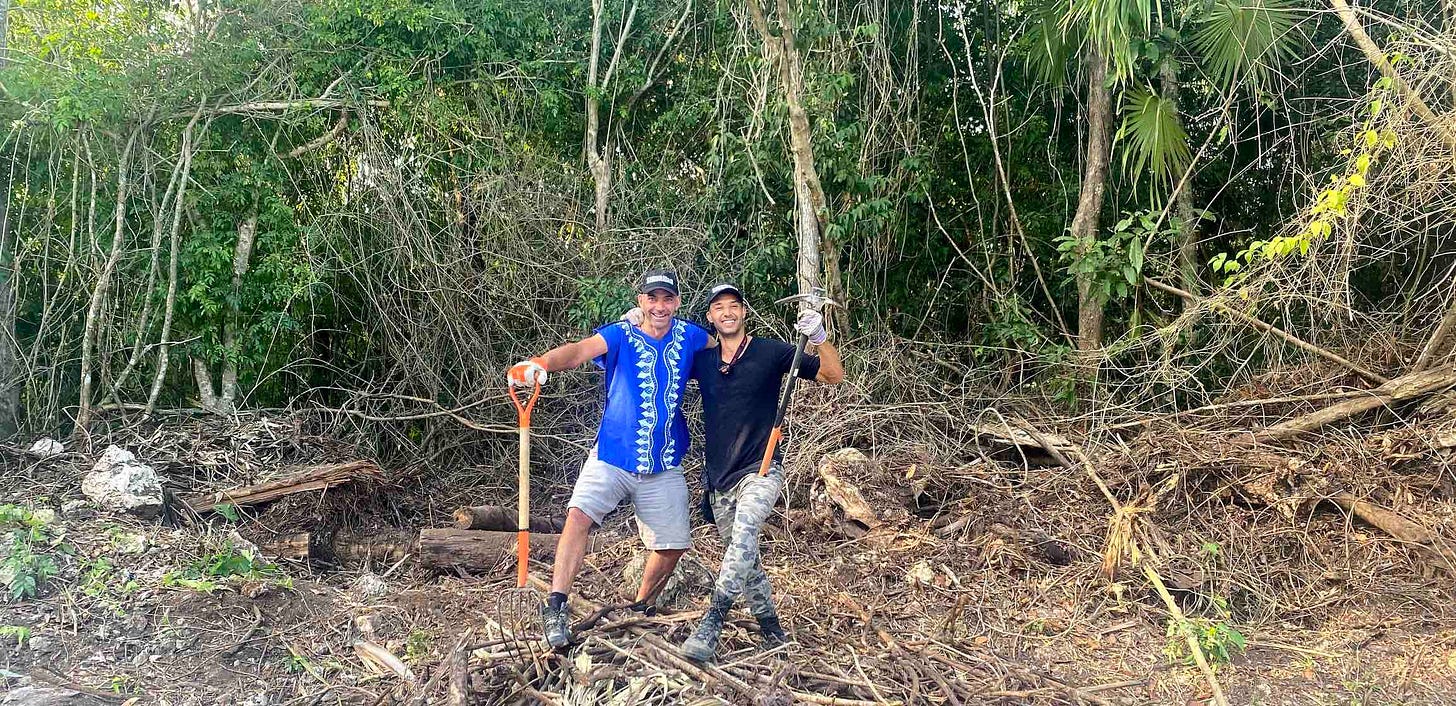 Alain and myself collecting and cutting wood in the mexican jungle for the fires, the only photo I was allowed to take during the four days, the circle is right behind the photographer…
Many new ideas came to my mind and intense feelings such as pride, happiness, anger, meditative states. The men coordinating asked me "do you feel the medicine yet?". I thought "what medicine?". What they call medicine is the dance, the songs, the Temezcal and… the energy of the Moon. I definitely felt it and went into strange or deep lucid dreams throughout my awake or dreaming times.  My other tasks as "man support" was to collect and cut wood and maintain the many fires during the four nights. I did not sleep much.
As a surprise during the last hour of the last night, on the night of the Full Moon, the men were allowed to get inside the circle and dance with the women. This was so powerful I cannot find words to explain it. 
I feel honored that I was able to be part of this ancestral ritual. I enjoyed it even though it was some of my hardest four days ever.
It was definitely much harder for the women this is why I call them "spiritual warrior women". These women are special. They make this offering of their energy and work in total devotion for something greater than themselves as I had never seen before. I supported this Moondance just after my stay in the Amazon forest and it definitely also made me much stronger in many ways. 
Watch the Zoom call this upcoming Wednesday at 10AM to hear the women talk about their Moondance, here it is again
This upcoming Wednesday for PAWA's zoom call at 10AM PT (SF), 13PM ET (NY) and 19H CET (Paris) - Zoom link - https://zoom.us/j/96086041175
Here are the recordings of our two latest Zoom calls:

-Benki Pyãko talks about Corona Virus and what we should do live from the Amazon forest (audio only as the Internet wasn't fast enough) and a short video by Benki
I would like to thank all of those who have donated to the Ashanika tribe during and after our call last week. We raised about $6k and their goal is $8k if you feel like participating here is the donation page, 100% goes to the Ashaninka people and will be used for paying for many years of a great satellite Internet in the middle of the forest. This fits PAWA's mission to connect and help indigenous share their wisdom to the world so THANK YOU.

-Phillip Scott talks about Corona Virus and dreams in his Lakota tradition
To follow our future PAWA Zoom calls you can:
-subscribe to PAWA's newsletter
-join our What's App group for updates
-join our Facebook Messenger group for conversations (about 300 members from nearly 40 countries and 50/50 gender parity as I write this)
-follow PAWA on Instagram 
-like PAWA's FB page
Thank you!
With much love, 
Loïc