"Natural vs Artificial Intelligence" PAUA schedule and new online event announced!
Hi everyone, I hope you will forgive me for sending you an email only about my conference PAUA for once, but it's next week (Friday/Saturday May 12-13) so that's all I am focusing on right now and I really wish as many of you will join us in person or online.
Magdalena and myself just recorded this video to explain why you might want to join us, the schedule and some of our fantastic speakers… We're expecting again 400 entrepreneurs and conscious friends representing 40 countries in Paris! Readers of my newsletter get 10% on the ticket price. We also have now a ticket for Saturday only.
Join us online if you cannot make it to Paris!
We will have a high quality video stream and online community experience if you cannot come to Paris, here is where you can sign-up.
We have just published the schedule on PAUA's Instagram here it is…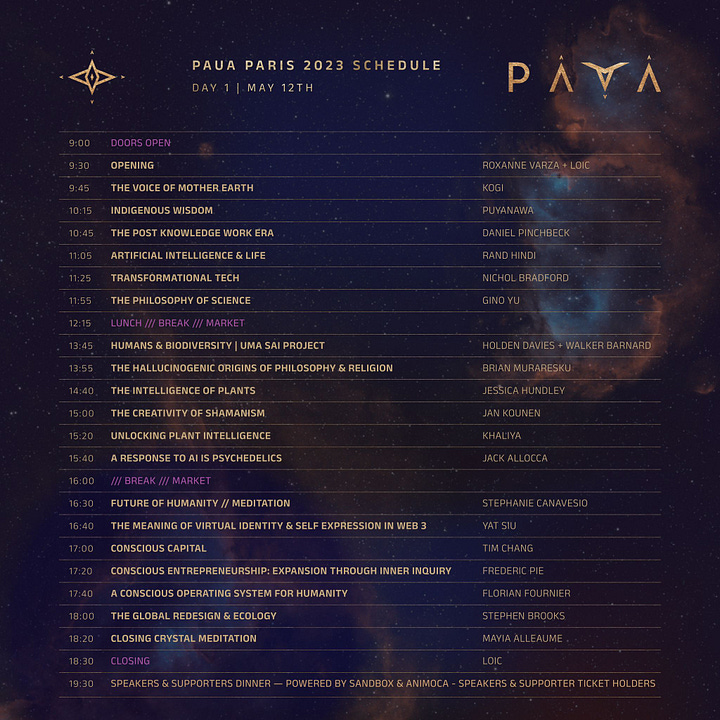 The money goes to building wells in the jungle, planting trees, buying back land…
This made all our work worth it and we will work on always supporting more the guardians of the planet in addition to providing inspiring talks to our participants.
Here are the Huni Kuins opening our conference last year, all the talks are on PAUA YouTube channel. I had no idea this donation happened until last week!
We will have this year again a very unique experience with tech superstars such as Yat Siu (in person from Hong-Kong this year) or the creator of the iPhone with Steve Jobs Tony Fadell who is coming back, AI thinkers such as Nichol Bradford or Rand Hindi, academics and scientists such as Gino Yu or "Dr Jack"… See the entire line up here.
I really hope to see you all in Paris or online.
Pour ceux qui parlent français merci à Nicolas Guyon pour son interview podcast sur l'AI sorti il y a quelques minutes.