Discover more from Loic's letter - Exploring the Mysterious
Mystical stories and learnings of a tech entrepreneur who decided to heal and transform himself working with indigenous spiritual masters. Frequency: 2 posts a week. 100% of the revenue goes to guardians of Mother Earth.
Over 12,000 subscribers
Your dream life and the virus challenge (Zoom call Wed 10AM PT) with Lakota Phillip Scott
Every week I am sharing with you a live conversation with an indigenous leader or someone who has a deep indigenous lineage or ancestral knowledge.
Wednesday, April 15 (tomorrow) at 10 AM PT, 1pm PM ET and 19h CET we will have a live conversation with Phillip Scott, Magdalena Sartori of the Ashram Studio and myself.
Zoom link https://zoom.us/j/91651330258
Phillip Scott is our guest tomorrow and some of the topics are the virus, balance with nature, dreams and how to interpret them. See Phillips's bio on PAWA's website.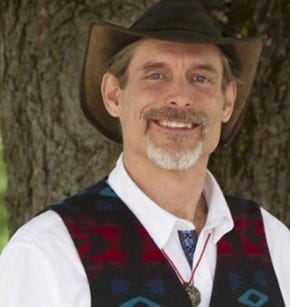 Phillip is from Lakota lineage but lives in Novato, California about an hour drive from San Francisco. He is between two worlds, the western world most of us live in and the ancient mysterious spiritual world.
I have been fascinated with dreams my whole life. We literally go into another world when we dream. Sometimes I travel in dreams while I am awake like in long plane trips as I wrote many years ago "between worlds". I also access this space many indigenous actually call "the astral plane" through meditation which we practiced with many of you on Zoom last Wednesday. Sorry I forgot to hit the record button, will do this Wednesday! I have shared in the past years some of my thoughts about meditation and my 10 day vipassana silent meditation course 8 years ago was my first spiritual experience.
During the few months I spent in the Amazon forest with local tribes I did a long "dieta" (more on this later) and the Yawanawà people initiate it with a long prayer. The Chief Nixiwaka prayed for hours for me in a language I had never heard before. It is not the language they speak daily. I asked what it was and they said it was the "language of the spiritual world".
I know this sounds weird and mysterious. Fasten your seatbelts during this journey with our guests as it will challenge many of your beliefs and offer a different perspective. The indigenous speak differently as they know and practice a very ancient wisdom that most of us (me included a few years ago) would consider irrelevant. Like you, I do not believe anything I hear and question it but I try to have an open mind.
The current challenging times make us all question our vision of our world and I found many answers in this ancestral knowledge. All I am trying to do is share with you the knowledge I receive. It is up to you to decide what you believe or not.
Back to Nixiwaka and the dreams. I asked about this "divine" language and how they learn it. Where are the books and the teachers? I asked. Nixiwaka told me they learn this language in their dreams and it took him ten years to master it. There are no books.
Every morning during the weeks of the dieta he would come see me and ask me about my dreams and help me understand them. I never had such vivid dreams. I could write down every morning three dreams I had during the night. Now that I am back in the city I find it again very hard to remember and understand them.
Phillip Scott teaches how to remember and interpret dreams. I felt very connected to him in many ways and asked him a very down to earth question "how can we work together to help so many people questioning everything these days". Phillip answered "let's dream it together".
During this hour and more tomorrow will talk about Phillip's vision of the virus and the challenges we are all going though. How can we keep or find balance with nature and not believe in conspiracy theories that the virus is a human creation? Then we will move into the dreams conversation.
I am focusing on PAWA live Zooms these days and will share more and more there about indigenous wisdom.
If you want to follow this adventure into the mysterious world of ancient wisdom, please register to PAWA's newsletter. I will post there more from now on while I keep this newsletter personal and less frequent than PAWA's. PAWA will eventually be collaborative with many more voices than just mine.
You can also:
-join our what's app group which we use only for announcements (no conversations there to keep it less busy given how many members)
-join our Facebook group for conversations and getting to know the community (anyone can post there)
-follow PAWA on Instagram
Thank you!
With much love,
Loïc.