Discover more from Loic's letter - Exploring the Mysterious
Mystical stories and learnings of a tech entrepreneur who decided to heal and transform himself working with indigenous spiritual masters. Frequency: 2 posts a week. 100% of the revenue goes to guardians of Mother Earth.
Over 12,000 subscribers
Earth day - Ashaninka leader Benki Piyãko live from the Amazon Forest Zoom call Wed 09h30 AM PT
sharing some of my learnings with the Ashaninka people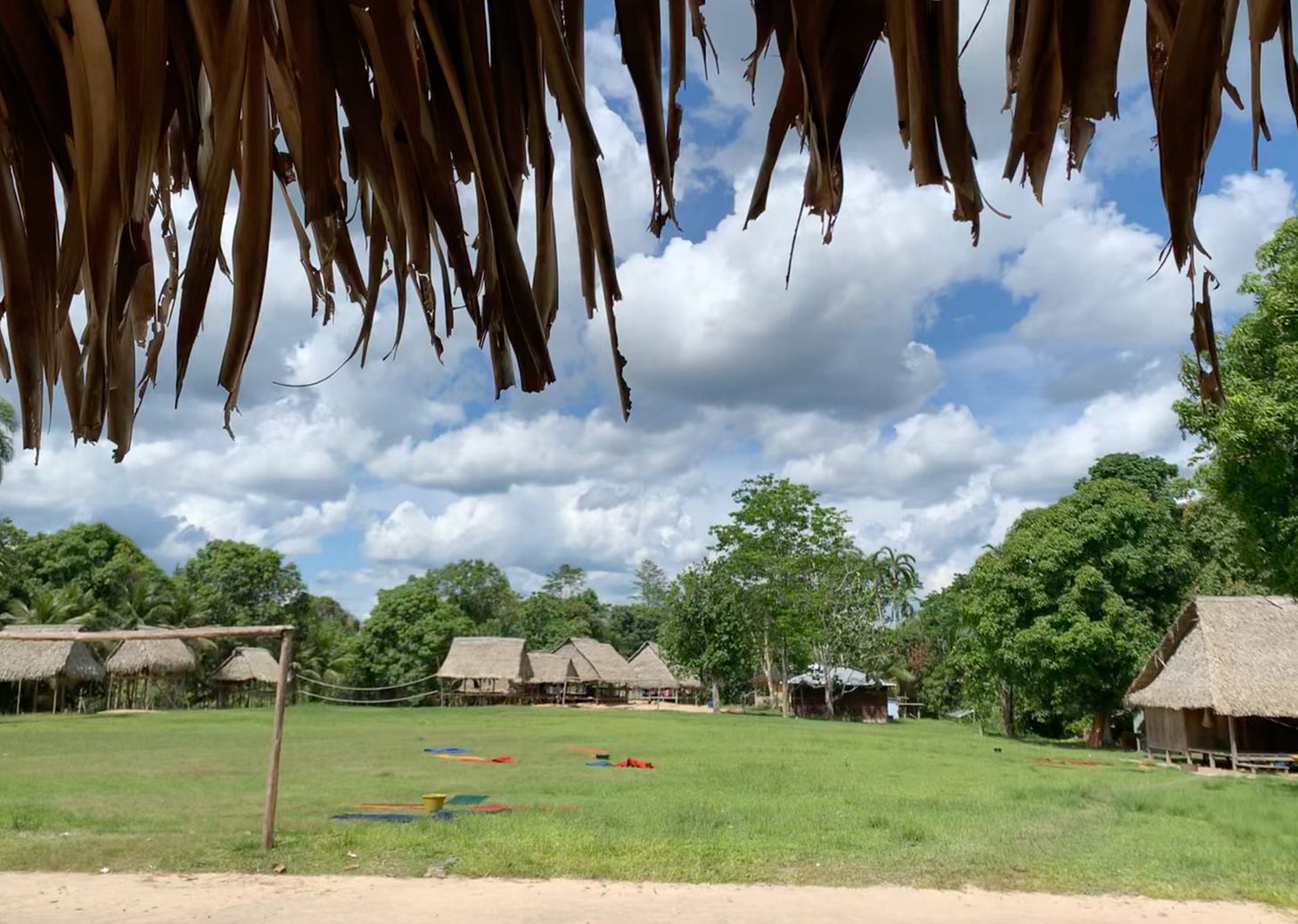 In two trips I spent about a month in the Amazon forest with Benki Piyãko spiritual leader of the Ashaninka tribe.
I am pleased to invite you to a live Zoom call with Benki this upcoming Wednesday at 09h30 AM PT (SF), 12h30 PM ET (NY) and 18h30 CET (Paris). Here is the Zoom link https://zoom.us/j/91444164974 here is an instagram video with Benki inviting you all to the conversation.
As the idea of an event came to me during my stay there, I asked Benki if I could name our event PAWA. PAWA means the fallen star that created the Ashaninka people.
Here are some thoughts about my time with Benki.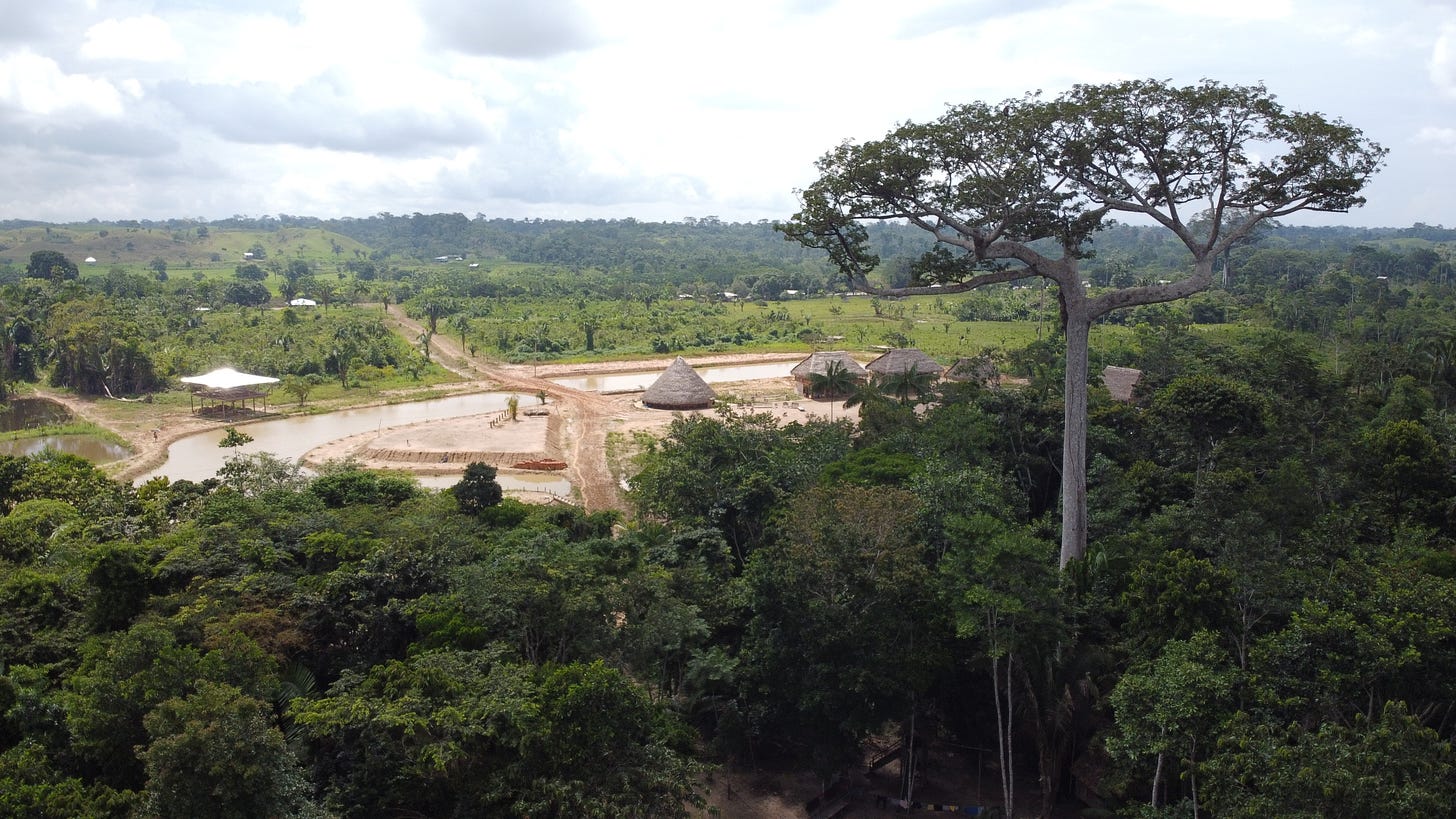 Yorenka Tasorentsi is the name of the center I have been to twice. It means "the creator's wisdom". They also call it the "University of the forest" is separate (3 hour boat ride on the river) from the Ashaninka village. It's a community founded by Benki and rooted in the Ashaninka culture. The members are Ashaninka, Kuntanawa and non-indigenous people. The center has been designed to receive groups of up to 20 non indigenous visitors generally for 10-day retreats. Some visitors stay there for months in longer healings or participating in the community. It is locatedplocated deep in the Amazon forest in the state of Acre, 8-hour boat ride or an hour small propeller plane ride from Cruzeiro du Sul near the small village of Marechal Tamaturgo.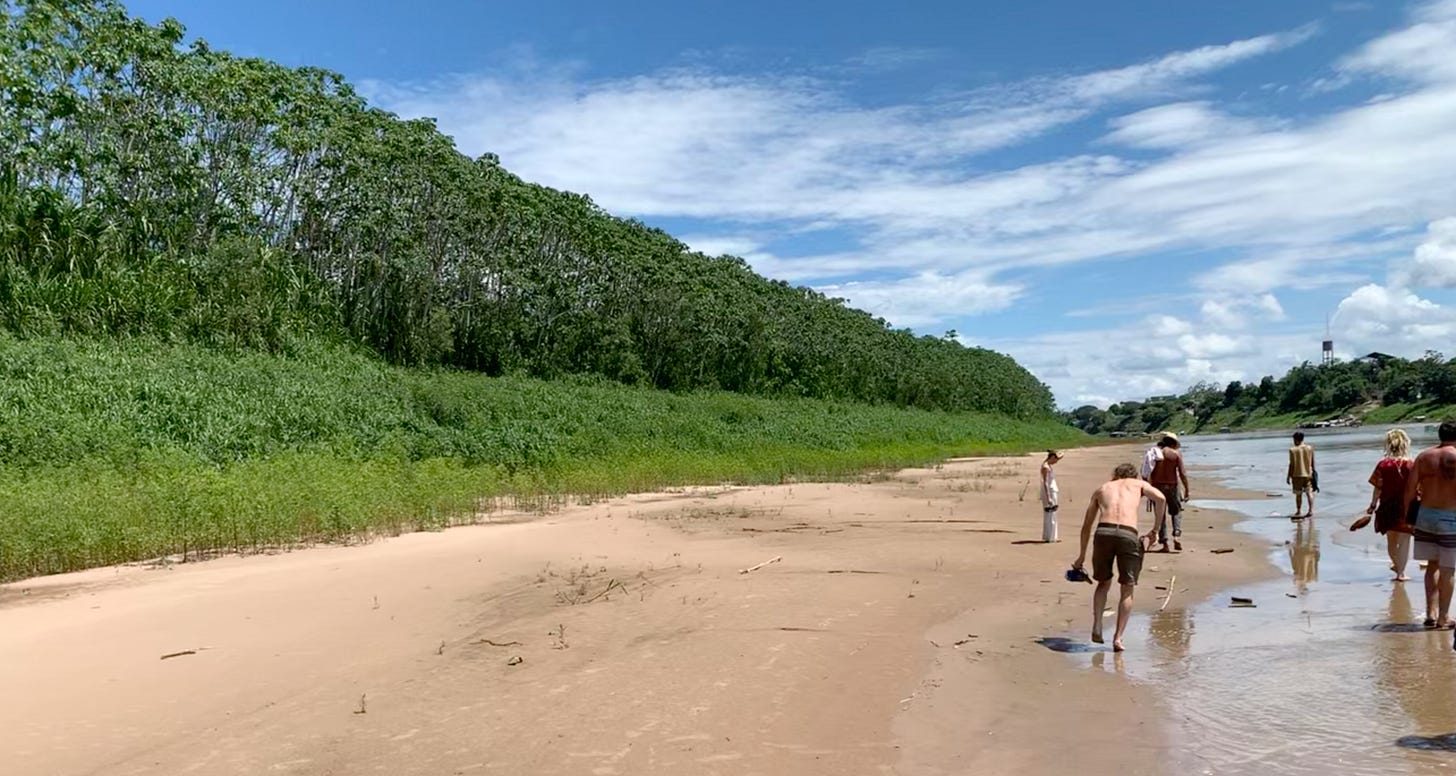 I have lived there sleeping in a hammock (now some rooms have actual mattresses too) and came with very little which was still too much. Living with very few belongings in a simple way was a great teaching I keep thinking about often. I learned to live with a sleeping bag, a headlight, a few clothes and a guitar. I am still learning almost daily. With no musical or singing experience ever it has proven a bigger challenge than I thought.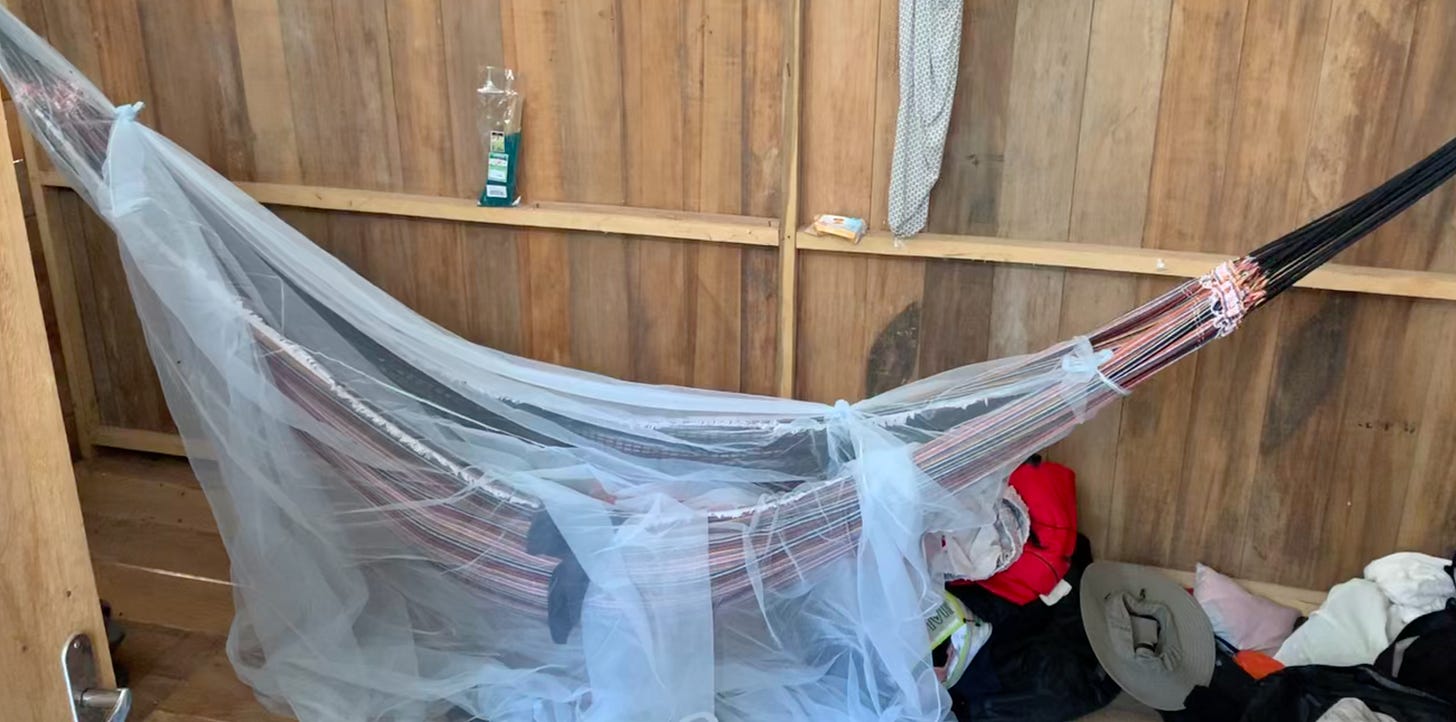 We also lived in a communal way, together with indigenous and guests, sharing rooms and meals together at big tables. It also showed me how much we lost the sense of communities in cities, barely talking or even knowing our neighbors. The word "together" takes another dimension there. Everyone is equal, indigenous or not and we are all together in full symbiosis and respect for the animals and nature around us.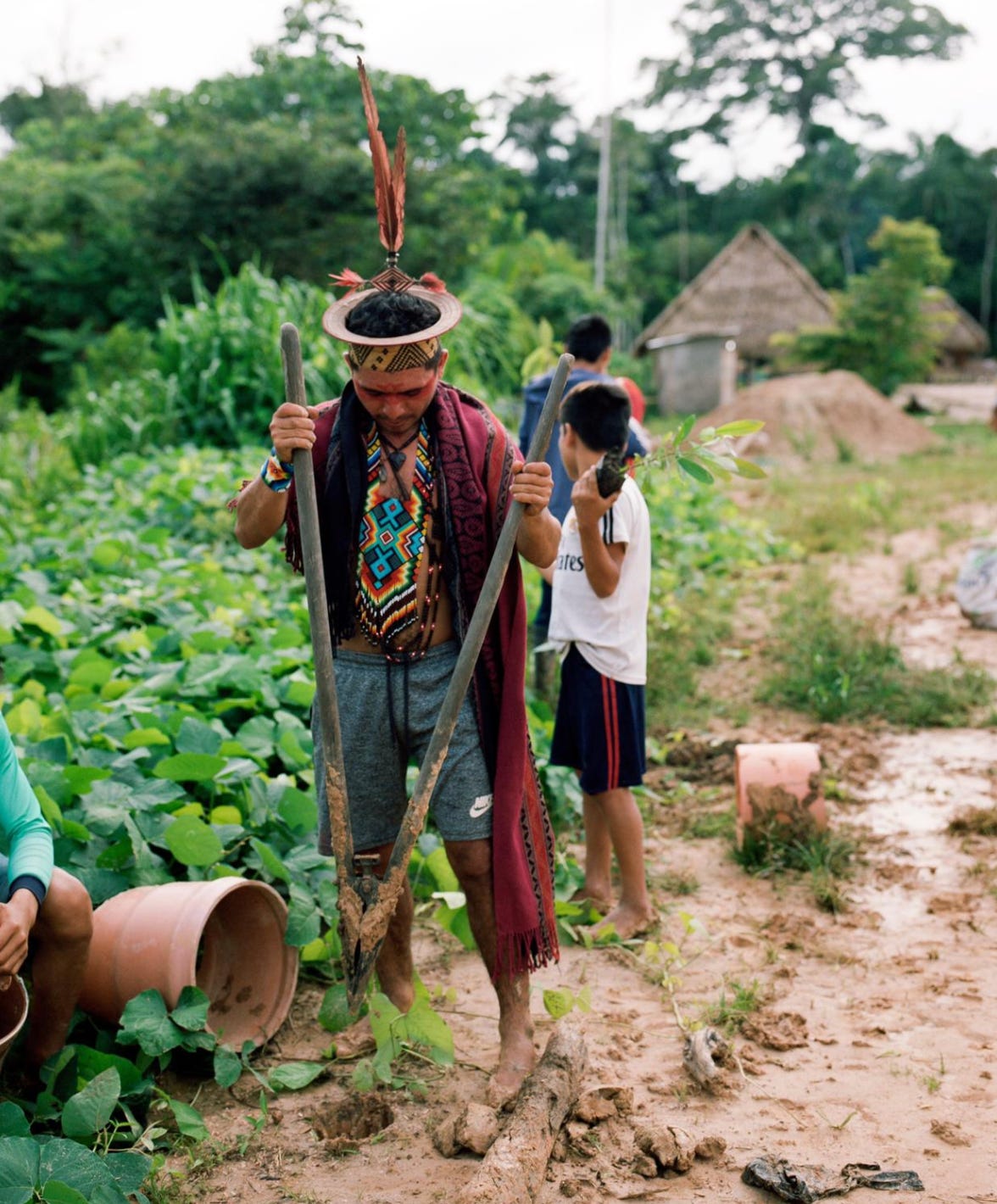 The Ashaninka people are mostly self-sustainable. We ate rice, vegetables and eggs from the chickens running around us or fish coming straight from the river. No supermarket there. There is always the little village of Marechal Tamaturgo nearby but the selection of products is very limited and we did not buy much there anyway. Water comes from wales. I filtered my water at the beginning but realized I could just drink it a few days later and was fine. We produced very little trash compared to our waste in the cities. Very little plastic arrives there and none is produced obviously. There is barely any money exchanged anywhere. Everyone has its role and works a lot. Cutting wood, fishing, taking care of the forest and the community, their families and the guests keep the Ashaninka people busy. The rest of the time is devoted to spiritual work or music.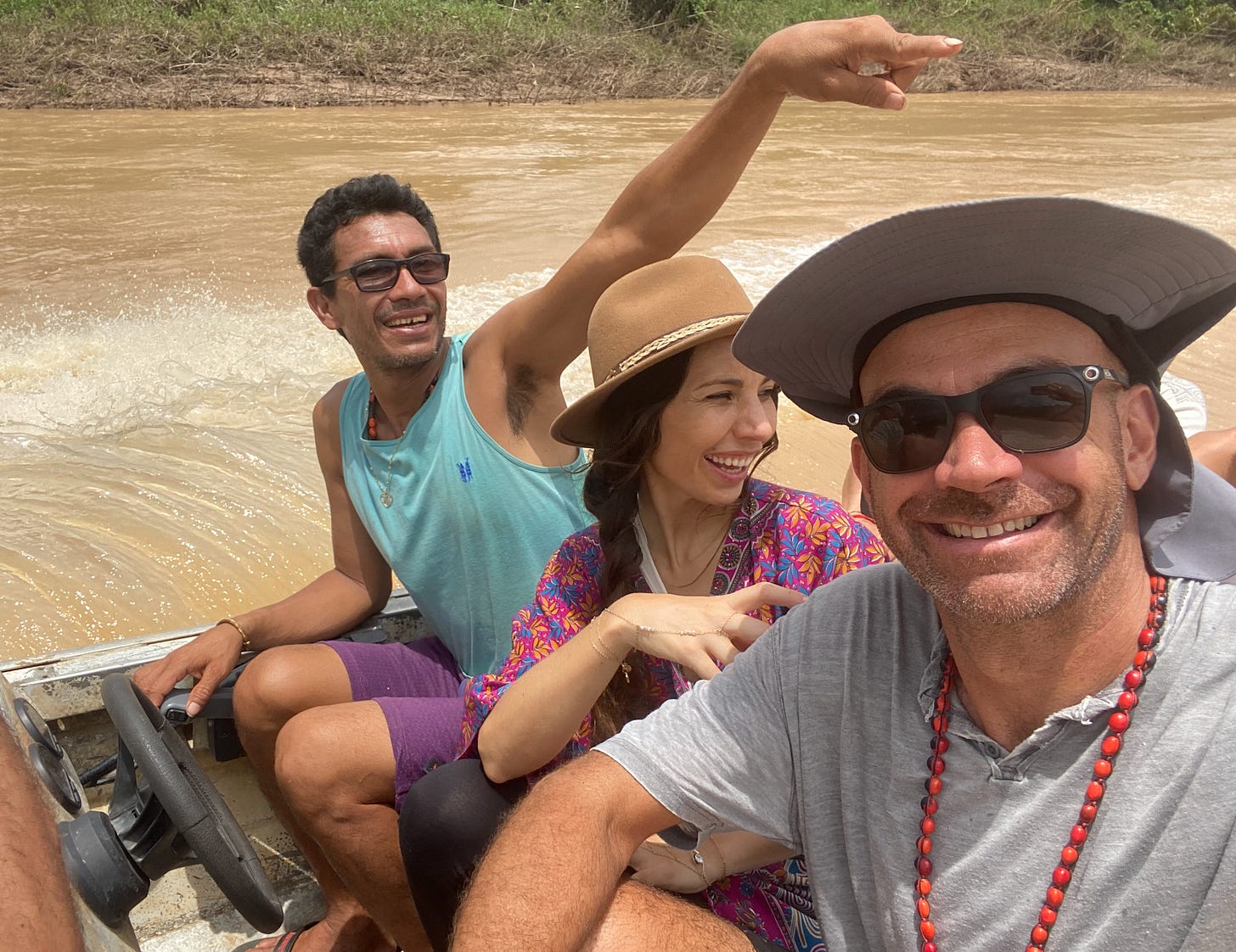 During Corona times and back in San Francisco it shows me how much our lives are not sustainable. If this situation were to get worse the Amazon tribes would be in a much better place to survive as most of what they eat comes from there. Sadly it would be impossible for the world's 7.8 billion people to live this way for sure. There isn't that much forest left and it is disappearing quickly.
The Ashaninka people are connected to nature and spirits in a way I had never seen before (it was my first retreat in the Amazon). The spiritual work happens mostly at night and almost every night during the retreats. We sit on wood benches in a circle gazing at the stars and listening to their songs. When it rains we sit inside. It often lasts the entire night.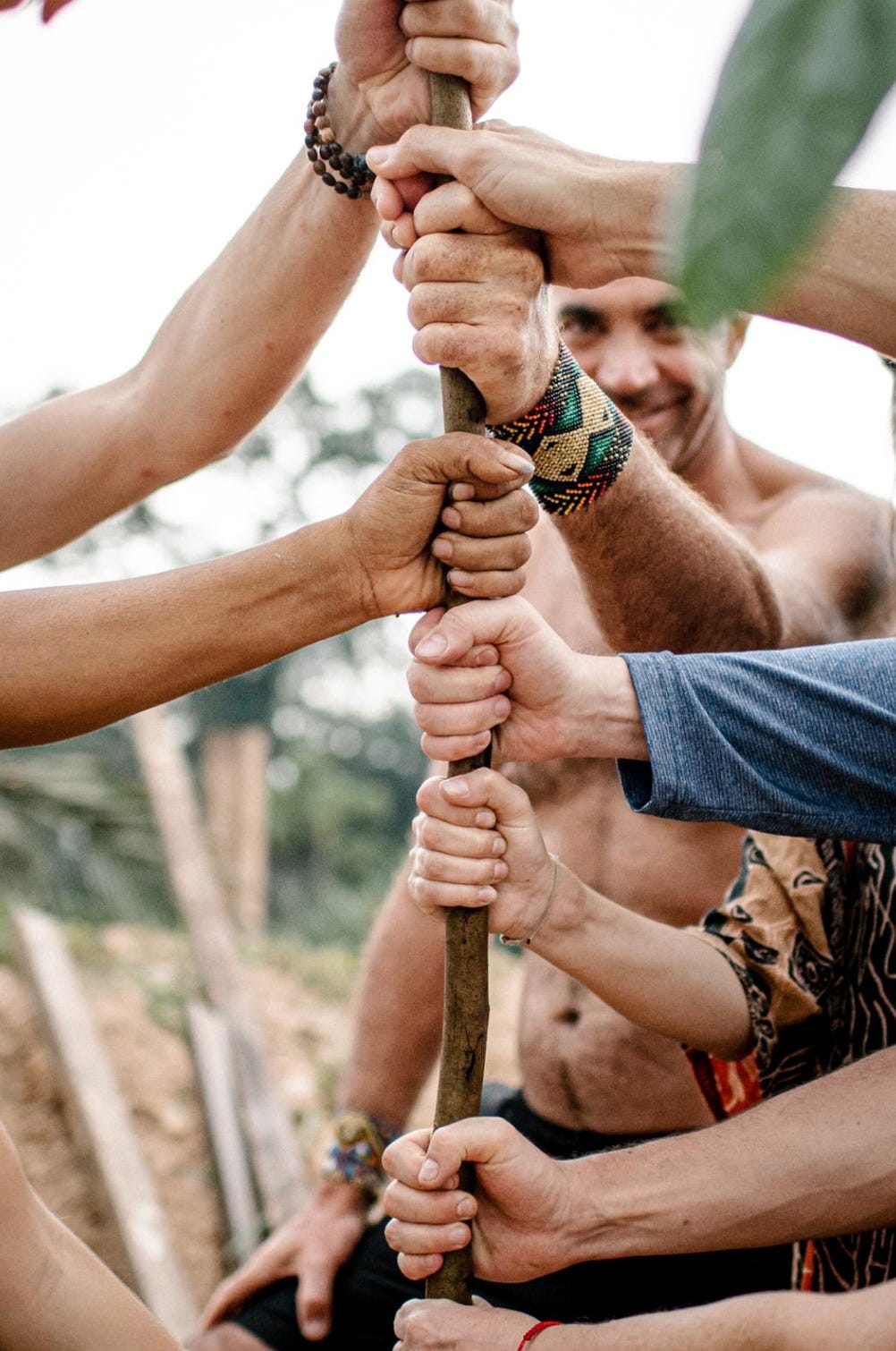 I also discovered the power of songs and music. Their songs have deep spiritual meanings and dreams or visions occur all night while listening to them. We generally begin the night by meditating an hour or so in silence. The first songs bring the dreams almost instantly. The community uses instruments (guitar and drums) only at the end and will spend most of the time singing without them as it is not an Ashaninka tradition. What I have so far only seen with the Ashaninka people (having worked with other tribes too) is that they sing different songs together at the same time. It was very confusing the first nights but I learned to appreciate and love it. You can sometimes listen to 10 people singing different songs at the same time! For me it was an occasion to work on focusing my brain on the song that resonated the most with me and "disregard" the other ones. The songs have deep meanings and while I do not understand most of them they always seem to resonate with me. Some songs will make me stare at a group of stars for an hour while others bring me back to the person singing it. I constantly "navigated" between two worlds, the world of dreams and this earth. I asked them why they all sing different songs simultaneously together. They answered "just listen to nature, birds don't ask permission to sing and another bird or animal will not wait for that song to end before starting to sing". The thousands of animals surrounding us definitely creates a permanent beautiful song or even message too. I would very often focus on very loud monkeys or turtles suddenly inviting themselves to sing with us. I was deep in nature in a way I had never felt before.
I learned to watch my ideas too. It's really a very long meditation. Thoughts come and go constantly as well as dreams. I always have many new ideas or a completely new way to see a situation or even the world during these meditations.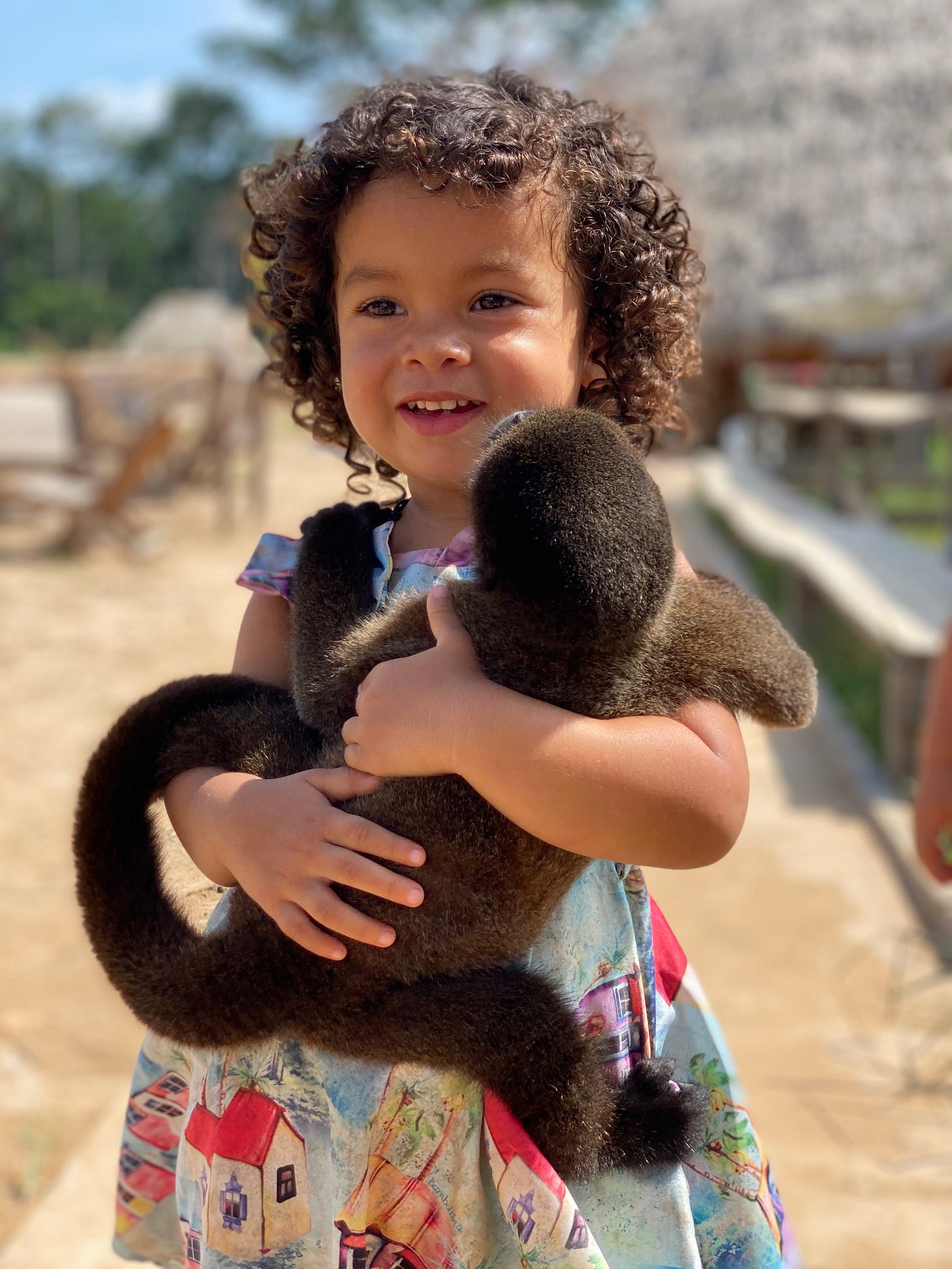 One of the first nights I sat with them I had two young Ashaninka sitting to my left and right. They sang and also breathed in a totally unknown way to me. They also use pipes with fresh tobacco from the forest. Nothing to do with our cigarettes. I could hear them smoke and sing constantly, sometimes in very discreet ways but that I felt very powerful. I quickly understood both the songs, the breath and smoking the pipes are healings. I felt different. My body felt the songs, my mind "saw" the impact they had on my body. Then they told me to sing, too. I have never sang my whole life so that felt very uncomfortable and weird. I tried though. I discovered my voice and how I could go from horrible sounds to something that sounded more or less okay. I can now sing a few Ashaninka songs and also play some guitar over it and each time I do even here in the city I feel great. I generally practice alone to avoid imposing my beginner level to anyone, unless I am there with them. They encourage anyone to sing and play music if they wish, without any judgement on the quality of the delivery, generally at the end so you can always leave if a non Ashaninka starts singing "wrong". They just ask you to try to repeat the exact words of the songs in order to keep its meaning and effect. Often just singing a song made me really happy or gave me ideas I would not have had otherwise.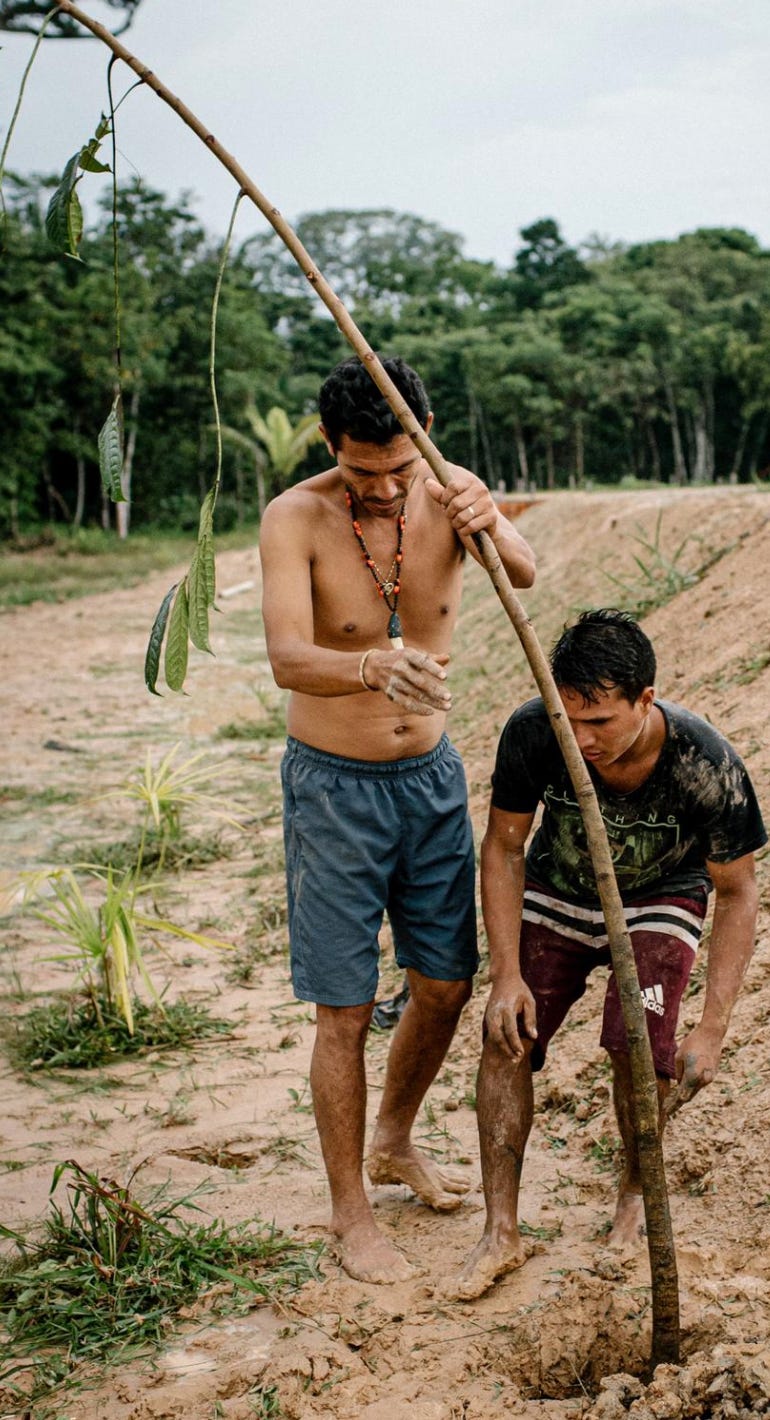 The Ashaninka people are masters at medicinal plants. Thousands of these plants grow naturally around the community and they know each of them. I tried many different plants with very deep healing effects. For example a plant they call "Tenori" provides a very deep cleansing. We drank a full glass at the beginning of the retreat and it was very good, like a very good tea. I purged many times during the night and felt sick with it but so clean the next day that I did it again during my next stay, looking forward to it. Purging is part of the healing process. My body felt like it released deep issues and my mind processed deep trauma sometimes from childhood. Consuming specific plants such as Tenori generally goes with a strict diet. In this case we did one week with no meat, no fish, no sugar and no salt. They also recommend absolutely no sex too including with yourself in order to preserve your energy. I will write other newsletters about the "dietas" and the plants, it would take too long here and I am still learning so much.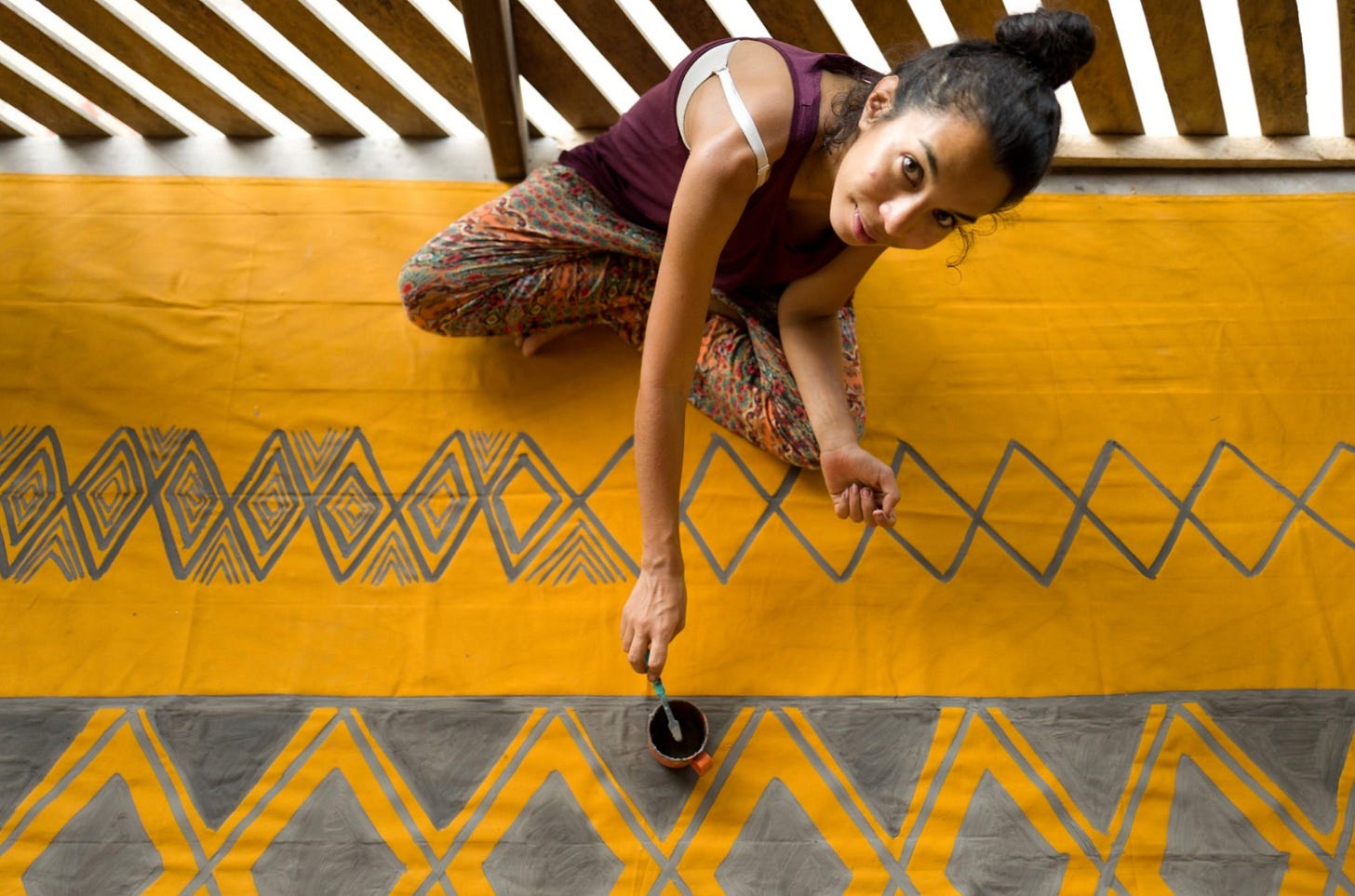 It was beautiful to see so many kids and teenagers always working with us. The Ashaninka people work preparing future generations as well as being able to heal many more of us so they get their own training at a very young age.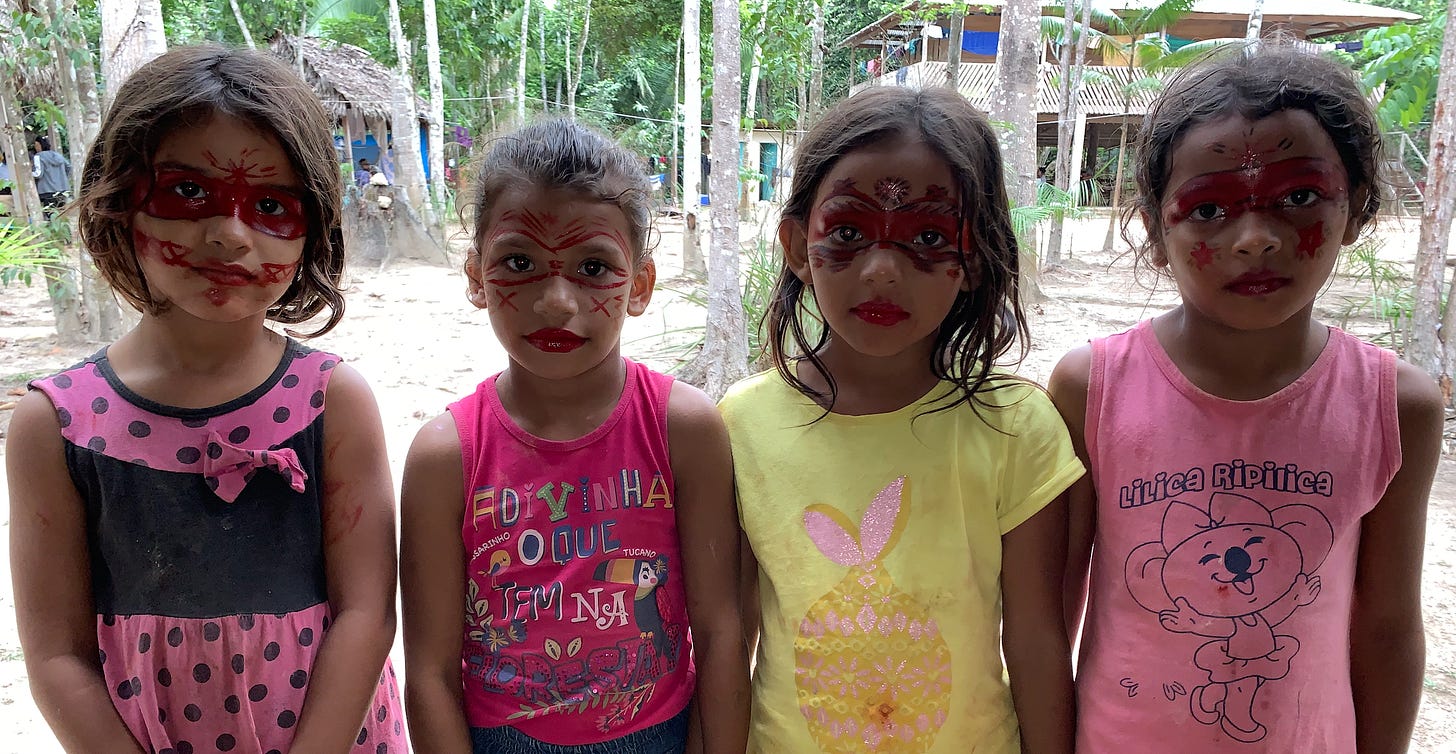 I came back changed in many ways. I am integrating it slowly into my life and reframing my relationship with myself, others and nature. Since then I tend to focus on different things that make my heart sing. I definitely see the world differently and I hope we are moving towards a world that is simpler and more loving. 
My body changed too, I have quit entirely alcohol for about 4 months and eat mostly vegetarian. I have some fish and meat too but rarely. I have lost about 30lbs / 15kg and never felt so healthy.
Working with Benki and the Ashaninka tribe has been as beautiful as transformative for me. I am really looking forward to our conversation with Benki on Zoom this upcoming Wednesday at 09h30 PT.
If you want to follow our Zoom calls and conversation on PAWA you can:
-get status updates by joining our what's app group (no conversations as the group is large)
-join our Facebook group (everyone can post there)
-subscribe to PAWA's newsletter
See you all on Wednesday!
With much love,
Loïc